Watch our previously recorded FBA webinar - Making the Most of Bead Funding - Tips for Success for State and Providers. In the webinar, you'll hear advice from our panel of experts on topics like mapping, data, challenge process, and collaboration. The panel includes:
VETRO Products
Supporting States & Providers with best-in-class mapping and fiber management system of record.
A powerful combination of tools and services to support state and community broadband mapping and grant-making programs.
Establish a central hub for broadband funding management and tracking


Visualize gaps in broadband service in context with demand data


Prioritize investments and demonstrate the impact of public funding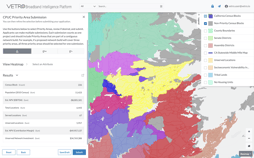 VETRO FiberMap® is an intuitive network mapping and fiber management GIS platform. Built on an open technology stack, delivered in the cloud, and designed for true ease of use, this mapping and fiber asset inventory software brings efficiencies to network owners, operators, and ISPs.
Simplify every stage of the network lifecycle


Be more productive with less effort


Get peace of mind with accurate inventory